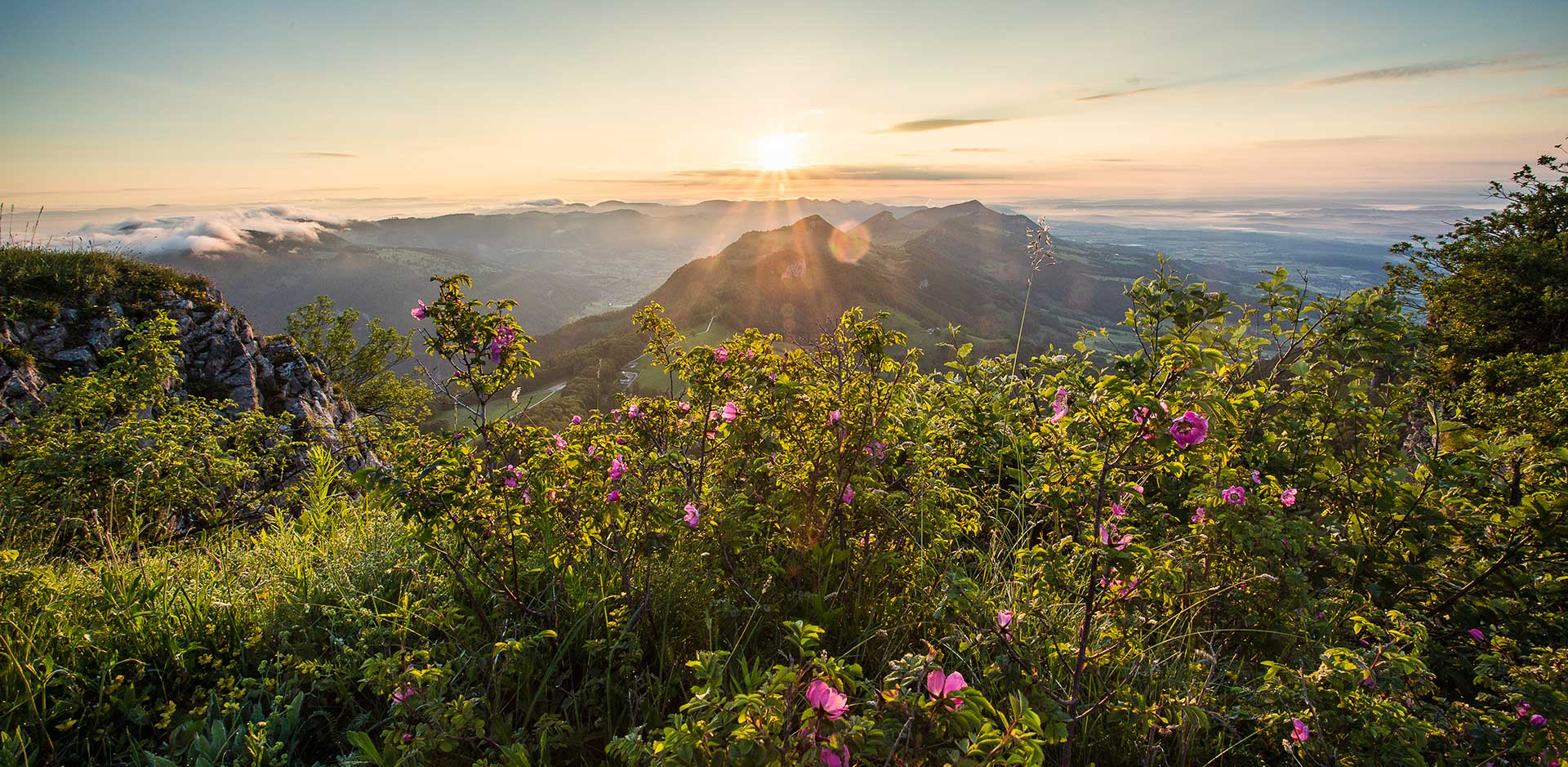 Welcome to Naturpark Thal!
Experience the serenity of a peaceful natural park combined with an active valley community in the middle of Switzerland.
The «Thal» region is a unique habitat for flora and fauna, indigenous to the jurassic mountains of the region of Solothurn. It is also a singularly beautiful recreational area for nature lovers, hikers and bikers of all ages.
Naturpark Thal offers a variety of exciting discoveries and experiences for adults and children: Hiking or biking through beautiful landscapes and on exciting theme trails, having a picnic at an open fire, enjoying fantastic views of the countryside, and much more.
Have a look around - we are looking forward to seeing you soon!
Some Highlights of Naturpark Thal:
Naturpark Thal lies in the middle of Switzerland, between Zürich and Berne, Olten and Solothurn. With its central location it is very easy to reach from all directions, by car as well as by train or bus.
Arrival by public transport
If you arrive be train or bus, choose the stop "Balsthal, Thalbrücke". The information point is a short walk across to the other side of the Naturpark-Thalbrücke traffic circle.
Arrival by car
From the freeway exit Oensingen you will reach Balsthal in five minutes. Turn left in the direction of Moutier at the Naturpark-Thalbrücke traffic circle and after 100 meters you will see the information point on your right.
Plan your journey with Google Maps
If you don't feel like driving yourself, Naturpark Thal offers a well organized public transport network with three different bus lines (129, 94, 115) as well as the Naturpark Bus on Sundays and holidays from May 1 to November 1.
Naturpark Bus offers two different routes with four mountain restaurants in the immediate vicinity of the bus stops, and other mountain restaurants only a few minutes' walk from the bus stops.
The Naturpark Bus line is integrated into the regional and national tariff associations. Their seasonal tickets as well as the SBB GA or Halbtax (half-fare) tickets are all valid.
Information Point Naturpark Thal in Balsthal
At the information point "Thalstation" in Balsthal, we will be happy to advise you on the best routes, excursions, and other activities in the region, complete with restaurant vouchers, hiking maps and much more.
Opening hours
Monday to Friday 9-12 and 14-17 hours
Closed on Saturday, Sunday and holidays
Outside opening hours you can find the the latest excursion tips outside the information center.
Address
Nature Park Thal
Hölzlistrasse 57
4710 Balsthal
Phone: +41 62 386 12 30
Email: info(at)naturparkthal.ch